Short answer: Severe and repetitive migraine attacks can be equated to chronic pain that is a qualifying condition for getting a medical card in Arizona. 
You can get a medical card in Arizona for a select list of qualifying conditions, and, while migraines in particular are not explicitly listed as one, chronic pain is. To qualify as chronic, your migraine pain must be severe and repetitive or persistent. That means it must be intense enough to debilitate you or impair your ability to perform the normal functions of your everyday life, and it must reoccur with some frequent regularity.
Anyone who has experienced migraines can attest to its debilitating effects. Distinct from other headaches, they can produce extreme sensitivity to light, noise or scents, a loss of sensation, visual hallucination and severe nausea (another qualifying condition for medical marijuana in Arizona) in addition to pain.
Even if your migraines are not chronic, you can still qualify for a medical card in Arizona if your migraines are a symptom of another qualifying condition or cooccur with another qualifying condition (i.e. your migraines and the other condition occur at the same time,) including:
HIV/AIDS
Cancer
Glaucoma
Hepatitis C
ALS (Amyotrophic Lateral Sclerosis)
Crohn's disease
Alzheimer's disease-related agitation
Likewise, you can qualify for an Arizona medical card if you have any other debilitating or chronic medical condition or disease that causes migraines as well as other forms of chronic pain, such as:
Multiple sclerosis and other conditions causing severe muscle spasms
Epilepsy and other conditions causing seizures
Extreme nausea
Post-traumatic stress disorder
Cachexia (aka wasting syndrome)
Moreover, if your migraines are a side effect of medication you take or treatment you are undergoing for any medical condition, that may qualify you for an Arizona medical card as well.
Read also: Can You Get a Medical Marijuana Card for Depression in Arizona? 
How Medical Marijuana Helps With Migraines
The benefits of medical marijuana has already been the subject of a great deal of scientific study. How marijuana works to help relieve pain, whether migraine pain or any other type, is through the cannabinoids it contains. Cannabinoids function similarly to endocannabinoids that the human body produces naturally in order to regulate many daily functions and maintain balance throughout the body's systems.
Among the many functions endocannabinoids (and, similarly, cannabinoids) perform is to calm pain receptors. This is one of the same ways marijuana helps ease muscle spasms, anxiety and nausea, among other concerns.
Marijuana can also act as an anti-inflammatory, helping to reduce inflammation and prevent the release of substances that promote inflammation. Inflammation is commonly associated with migraines, including, in cases, as their cause.
In 2012, researchers from the University of Arizona Zuckerman College of Public Health published an evidence review called "Medical Marijuana for the Treatment of Migraine Headaches" that presents and discusses evidence on the use of marijuana for migraines. Consistently, the articles explored reported that subjects had a favorable response to marijuana as a form of migraine relief.
In 2013, researchers from the same institution released a report entitled "Medical Marijuana for the Treatment and Prevention of Migraine Headaches: Update" that provided substantial additional articles providing evidence supporting the use of marijuana for migraines.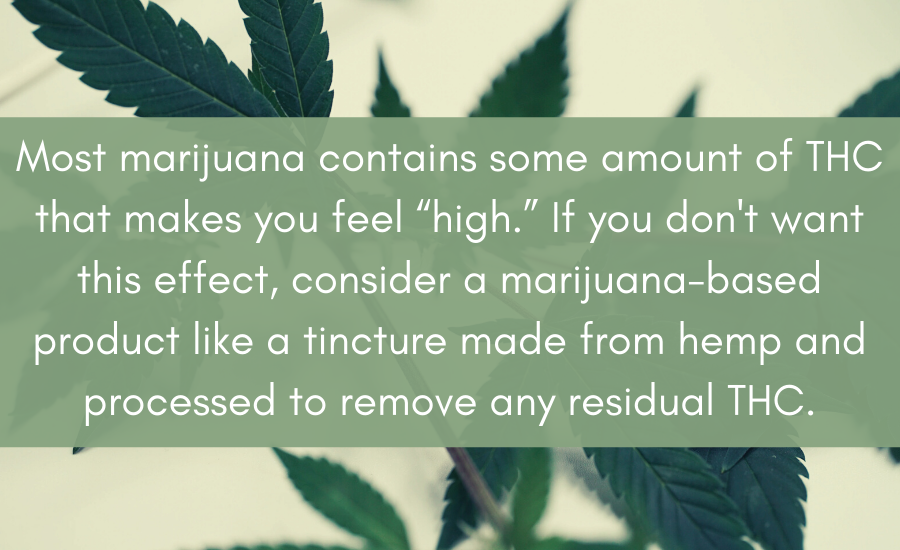 What Type of Marijuana is Best for Migraines
There are several different types of marijuana and marijuana-derived products for sale at Arizona dispensaries, including sativa, indica and CBD strains. Different strains affect people differently, so it can be difficult to identify one type of marijuana that works best for everyone. That said, one type of marijuana lacks the mind-altering effect so commonly associated with marijuana. Many migraine sufferers do not want a psychoactive side effect from their migraine medication. If you are one of these people, then CBD strains and products made from CBD marijuana strains may be best.
Keep in mind that most marijuana contains some amount of THC, the compound that produces the marijuana "high." Therefore, if you want to ensure that you don't have any THC in your marijuana-based migraine therapy, consider a marijuana-based product like a tincture made from hemp and processed to remove any residual THC.
How to Use Marijuana for Migraine Relief
You can use marijuana to reduce and relieve a migraine already in progress. You can also use marijuana prophylactically to prevent the onset of migraines.
How to Get a Medical Card for Migraines in Arizona
Getting a medical card in Arizona requires that you present a letter from a doctor licensed to practice in Arizona attesting that you have a diagnosis for a qualifying condition for legal medical marijuana in Arizona and that medical marijuana may help you achieve relief from some aspects of the condition. You can get this letter from your own doctor. However, if you do not want to ask your current doctor for this letter or your doctor has refused to write one, or if you simply do not have a doctor yet, you can be put in touch with one to write your medical marijuana letter for you at Affordable Certification.
Affordable Certification is a completely online service that connects you with a licensed Arizona doctor through videoconferencing from the comfort and safety of your own home. During your brief consultation and examination, you and the doctor will discuss your medical history of migraines and any related conditions and factors (like medications and treatments) as well as your knowledge of and experience with using medical marijuana to relieve your migraine pain, either in intensity or frequency or both.
Upon completion of your appointment, your new medical marijuana doctor will write you the necessary letter to get your Arizona medical card and deliver it to you via email. Once you receive your letter, you can create an account on the AZDH medical marijuana website, pay the necessary fee ($75 if you're on SNAP/food stamps or $150 otherwise) and upload your doctor's letter. You must also provide your Arizona state ID or driver's license information proving that you are at least 21 years old and have an Arizona address as your primary residence.
(Note that, if you are 18 or older but not yet 21, you cannot use the services of Affordable Certification, though you can still qualify for medical marijuana in Arizona. You simply must obtain your medical marijuana letter from another Arizona doctor.)
Read also: Is It Hard to Get a Medical Marijuana Card in Arizona?
After you complete the application and submit it, the AZDH will get back you within a few days with their determination. Assuming your application is approved, you will be able to download your digital Arizona medical marijuana card and start using it right away. Arizona no longer issues physical, plastic medical cards. This digital card is, therefore, the precise and only proof you need to show that you are an authorized Arizona medical marijuana patient.
In Arizona, a medical marijuana card is valid for two years. After that time, you must renew it with a current doctor's letter. When the time comes for you to renew your Arizona medical card, you can return to Affordable Certification to get a current doctor's letter. 
If you suffer from migraines, but doubt if you qualify for a medical marijuana card, contact our doctor. He or she will provide you with all necessary information concerning the use of cannabis for migraines, qualifying conditions, and dosage, as well as assist in the procedure of applying for a weed card in Arizona. By clicking the button below, you will be connected to one of the licensed specialists within 20 minutes.