Short answer: While you can't get a medical marijuana card in Arizona for a diagnosis of ADHD, you can get one for a number of other diagnoses that often occur jointly with ADHD in people. 
Attention Deficit Hyperactivity Disorder (ADHD) is a chronic disorder that affects 6-9% of kids and around 5% of adults around the world. Marked by bouts of hyperactivity, inattentiveness and impulsive behavior, ADHD currently has no known cure. Nevertheless, many people are finding tremendous relief from their ADHD symptoms by using medical marijuana. But, while the answer to the question, "Can marijuana treat ADHD?" is a simple and resounding yes, the question of whether you can get a medical card in Arizona for ADHD is more complicated.
Unfortunately, the Arizona Medical Marijuana Program does not yet list ADHD as one of the valid qualifying conditions for getting a medical marijuana card in the state. That does not mean, however, that someone with ADHD can't get an Arizona medical marijuana card. Read on to find out more details on how you can get an Arizona medical card to legally use cannabis for your ADHD.
Read also: Can You Get a Medical Marijuana Card for Depression in Arizona?
How Medical Cannabis Can Treat ADHD
A number of studies have shown the benefits of marijuana for people with ADHD. In just one, German researchers in 2015 gave cannabis to 30 patients with ADHD who weren't responding to Adderall or Ritalin, the common conventional pharmaceutical treatments for the condition. Most of the patients experienced better sleep, improved performance and lower impulsivity after using the marijuana. Moreover, unlike amphetamine and methylphenaidate stimulants like those conventional pharmaceutical options, medical marijuana also helps patients to relax. It also doesn't pose the same side effects of nausea, suppressed appetite or digestive distress as those conventional medications. In fact, medical marijuana is known to relieve those very same symptoms.
Scientists believe at least one of the ways in which medical marijuana helps treat ADHD is by helping the brain to regulate dopamine production and release. The pharmaceuticals Ritalin and Adderrall act similarly, serving their function by stimulating dopamine production. Marijuana binds to the dopamine already released into the brain and bloodstream and helps to slow its metabolic process of breaking down. At the right dose, marijuana may also be able to help correct for a dopamine deficiency.
ADHD Symptoms Medical Marijuana Can Treat
As discovered by the research cited above, medical marijuana can help reduce impulsivity and hyperactivity in people with ADHD. It can also help people with ADHD to:
Stimulate the appetite
Promote sleep
Ease tension
Alleviate nausea
Increase concentration
Make routine activities less arduous
Balance mood swings
Read also: Can You Get a Medical Marijuana Card for Insomnia?
Medical marijuana can also relieve side effects of other ADHD medications and stimulant medications.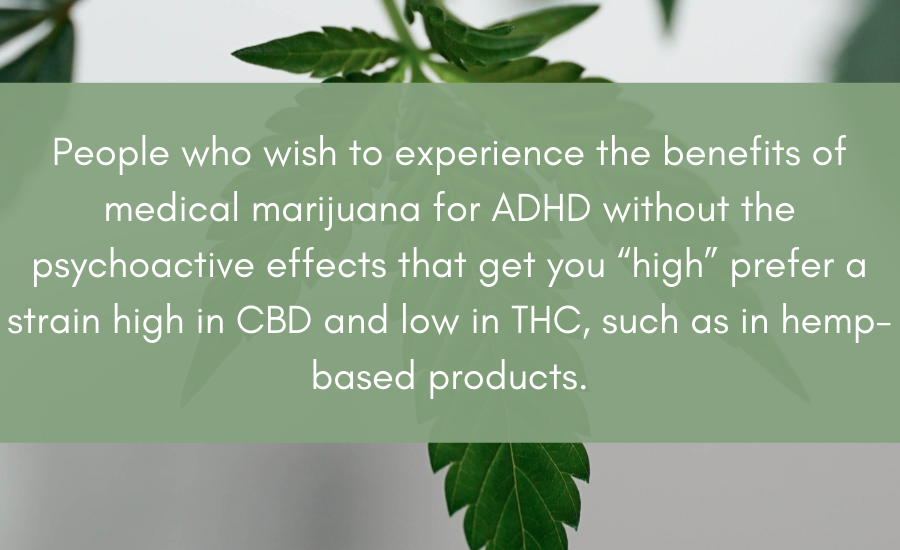 How to Get a Medical Marijuana Card for ADHD in Arizona
While Attention Deficit Hyperactivity Disorder is not yet a qualifying condition for medical marijuana in Arizona, that does not mean it can't be in the future. The state of Arizona accepts petitions from residents like you each year to add new medical conditions and symptoms to its list of qualifying ones. You can submit a petition of your own to the Arizona Department of Health Services (ADHS) to add ADHD to that list. Petitions are typically accepted near the end of January each year by mail at P.O. Box 19000, Phoenix, AZ 85005.
That said, here's how to get your Arizona medical marijuana card with ADHD in the meantime.
Qualifying for Medical Marijuana in Arizona with ADHD
While you can't get a medical marijuana card in Arizona for a diagnosis of ADHD, you can get one for a number of other diagnoses that often occur jointly with ADHD in people. If, for example, you also experience severe chronic pain, you qualify for a medical marijuana card in Arizona, regardless of whether your chronic pain affects or is affected by your ADHD. Likewise, if you have seizures or muscle spasms, you can get an Arizona medical marijuana card. The fact is, all but 10% of the medical marijuana cards currently in issuance in Arizona are for either chronic pain or PTSD (post-traumatic stress disorder) alone.
People with ADHD often have PTSD as well, one frequently influencing the other. And even if you haven't ever been diagnosed with PTSD, the current coronavirus crisis is a perfectly legitimate cause to change that. Watching the news, being stuck at home, forced out of a job, trying to make ends meet, all while watching people all around get sick and die is a traumatizing experience for anyone. Even if you didn't have PTSD before, you may have it now. And, if you do, it can get you an Arizona medical marijuana card so you can also get relief from your ADHD.
Finally, you can also get a medical card in Arizona for any chronic or debilitating illness or medical condition or its treatment that causes any of the symptoms listed below. That means, if you have any other disease or health condition that causes any of these symptoms or for which the treatment of that disease or condition causes any of these symptoms, you can get a medical card in Arizona. This includes if the prescription medication you must take for your ADHD (and all available legal, affordable or accessible alternatives) cause you any of these symptoms, which are:
Seizures, including from epilepsy
Persistent or severe muscle spasms, including from multiple sclerosis
Extreme nausea
Migraines, arthritis pain or other chronic pain
Wasting syndrome (aka cachexia)
Read more: The Full List of Qualifying Conditions For Getting a Medical Marijuana Card in Arizona. 
Obtaining Your Medical Marijuana Card for ADHD in Arizona
Affordable Certification can facilitate you getting your Arizona medical marijuana card without even leaving the comfort and safety of your home. To get your MMJ card AZ online, quickly, easily and affordably, simply sign up at Affordable Certification. We will, then, put you in touch with a doctor licensed to practice in Arizona. You and the doctor will meet by teleconference to discuss your qualifying condition and how medical marijuana helps with your symptoms.
If you have medical records to support your claim at this time, you can present it to the doctor to verify your qualifications. But, even if you don't have such records, or don't wish to contact your regular doctor to request them, the doctor to whom Affordable Certification refers you can assist you in developing the medical history proving your medical marijuana qualifications. You need only be at least 18 years of age and an Arizona resident with valid proof of ID.
Once you complete your appointment, your doctor and Affordable Certification will then aid you in submitting your application for an Arizona medical card. Then, all you do is wait to receive it, and you can start buying medical marijuana at your local Arizona dispensary.
Using Medical Marijuana for ADHD
Different people respond to different types and strains of marijuana differently. The best way for you to find the right type and strain for you is to discuss it with your medical marijuana doctor and the knowledgeable dispensary staff. Generally, people who wish to experience the benefits of medical marijuana for ADHD without the psychoactive effects that get you "high" prefer a strain high in CBD and low in THC, such as in hemp-based products.
Although ADHD is not a qualifying condition for obtaining a cannabis card, in some cases, when ADHD is a consequence of another disease or accompanies another disease that is a qualifying condition, a specialist may prescribe medical marijuana for treatment. It is important to choose the right dosage and type of marijuana for you personally. Find out all the detailed information by registering and contacting the best marijuana doctor in Arizona. The whole procedure takes place online, quickly and comfortably.