Short answer:  If insomnia is a symptom of other illnesses that belong to qualifying conditions, you can apply for a medical marijuana card in Arizona. 
Insomnia may not yet be one of the qualifying conditions for receiving a medical marijuana card in Arizona, but that does not mean you can't still get an Arizona medical marijuana card to help with your insomnia. This article will show you how.
Insomnia as a Qualifying Symptom or Side Effect
Insomnia is not only a condition. It is also a symptom of many other conditions, some of which are, indeed, qualifying conditions in Arizona.
#1: Anxiety and Depression
Anxiety, depression and stress can also cause insomnia, and, while these conditions are not qualifying conditions for a medical card in Arizona either, there are ways to get an Arizona medical card for anxiety, depression and stress as well. Read our articles on how to get a medical card for anxiety and depression in Arizona to learn more.
#2: Stress
As for stress, one common condition for getting a medical card in Arizona is post-traumatic stress disorder. The only requirement for a PTSD diagnosis is severe, chronic stress caused by a traumatic event. Any number of events can qualify as traumatic, including the sudden and severe illness or death of a loved one, such as might occur during a global pandemic. If your insomnia is a direct result of stress caused by a traumatic event, you may qualify for a PTSD diagnosis and, therefore, for an Arizona medical card.
#3: Pain
Another common condition that qualifies for a medical marijuana card in Arizona is chronic pain. It doesn't matter what the underlying condition is that's causing the pain, as long as the pain is severe and repetitive or persistent. If your insomnia is the result of chronic pain, then you qualify.
#4: Medication and Treatment
Insomnia can also be a side effect of many medications. If your insomnia is the result of taking any medication for a qualifying condition for a medical card in Arizona, you are eligible for an Arizona medical card. Likewise, if the treatment you receive for a qualifying condition is causing your insomnia, you qualify for an Arizona medical card.
Read also: Can You Get a Medical Marijuana Card for Depression in Arizona?
Insomnia as a New Qualifying Condition
The Arizona Department of Health reviews the list of qualifying conditions for using medical marijuana legally in the state on a regular basis. As new evidence supporting the use of medical marijuana for a particular condition arises, the AZDH can and may add new qualifying conditions to the list. As a resident of Arizona, you can petition the AZDH to consider adding insomnia to the list. The AZDH accepts written petitions from the general public for new qualifying conditions twice each year, in January and July. The department only accepts petitions by mail at the following address:
AZDH P.O. Box 19000 Phoenix, AZ 85005
You can find more details on how to create and submit a petition for a new qualifying condition at the AZDH website.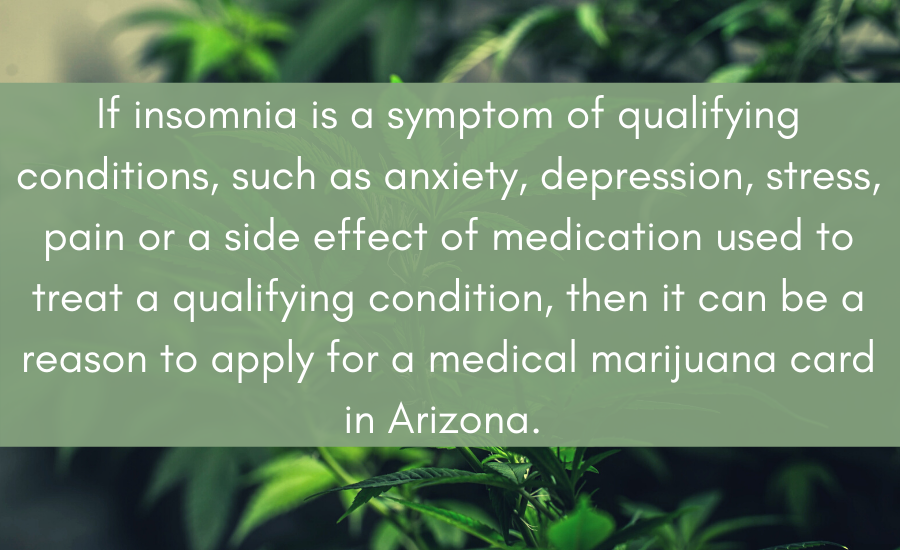 How to Get a Medical Marijuana Card in Arizona
Getting a medical marijuana card in Arizona is a simple two-step process of:
Obtaining a doctor's letter
Registering with the Arizona Medical Marijuana Program
The following will show you how to complete each of these steps.
Getting a Medical Marijuana Doctor's Letter
In order to get a medical marijuana card in Arizona, you must first get a doctor's letter authorizing you to use medical marijuana in the state for a particular diagnosis the Arizona Medical Marijuana Program lists as a qualifying condition for medical marijuana in Arizona. There are a couple of different ways to obtain this letter. One way is to see your own doctor and request such a letter from him or her. If you do not have a doctor yet, however, or you do not wish to discuss your interest in using medical marijuana with your doctor, you can find a different doctor to speak with about your need for medical marijuana.
One of the easiest ways to find a doctor you can speak with safely and confidentially to get the medical marijuana doctor's letter you need is through the services of Affordable Certification. Affordable Certification is an online service that connects you with a doctor licensed to practice in Arizona. Once you register with Affordable Certification, you will meet with this doctor via teleconference for a medical marijuana consultation and examination.
Medical Records
Beyond the doctor's letter authorizing you to use medical marijuana legally in Arizona, you do not need to present medical records to prove that you qualify. However, if you have medical records demonstrating your history of the particular medical condition relating to your insomnia to show to the doctor, it can be very beneficial for proving your eligibility and expediting your doctor's authorization. If you do not have such a printed history, whether because you haven't yet seen a doctor for your condition or do not wish to request your records from the doctor you do normally see for this condition, it's no matter.
The doctor you meet through Affordable Certification will help you develop the medical records you need to validate your diagnosis, should you ever be called upon to do so. The doctor you see through Affordable Certification will provide your medical marijuana certification letter on the official form the Arizona Department of Health requires to approve your application for a medical card. You, however, are required to upload it yourself to the AZDH in the subsequent step. Having said that, Affordable Certification may be able to help you with that for a limited time. Note that you must be at least 21 years of age to use Affordable Certification's services. If you are over 18 years of age but under 21, you can still get a medical marijuana letter from your own doctor.
Read also: Official Arizona Rules and Laws for Medical Marijuana Cards 2022. 
Register for an Arizona Medical Marijuana Card
Once you have your doctor's authorization to use medical marijuana in Arizona, you simply go to the Arizona Department of Health website medical marijuana portal here: azdhs.gov/licensing/medical-marijuana/index.php. Note that you can only apply for a medical marijuana card in Arizona online. You cannot apply for a medical card at an AZDH office or anywhere else in person. At the AZDH medical marijuana portal, you can apply for a new Arizona medical marijuana card as well as renew your existing one, report and replace a lost or stolen one or make changes to your card.
Electronic Cards
The Arizona Medical Marijuana Program no longer issues plastic, physical cards to authorized medical marijuana patients in the state and their caregivers. Now, all medical marijuana cards issued in Arizona are digital. Once you submit your completed application and it is processed by the AZDH, you will receive access to your electronic card via email.
You can, then, download this card and present it on your smartphone or other portable electronic device when you go to a dispensary to purchase medical marijuana or are asked by a law enforcement officer to present it. If you do not own such a device, you can print out your card yourself on any home or office printer or at any business offering printing services. With your electronic medical marijuana card in hand, you are now free to visit any marijuana dispensary in Arizona to purchase the medical marijuana you need to combat your insomnia.
Suffering from insomnia but not sure if you can qualify for a medical marijuanas card? Our licensed therapist will be able to guide you through the qualifying conditions, and assist with the application process, the list of documents, and any questions you may have. Register now and schedule an online consultation with a doctor quickly, efficiently, and in the comfort of your home.