Short answer: Among the pros of medical marijuana are lower taxes, allowed quantity, wait times, edible potency, work protection, and delivery. The difficulty in getting the MMJ card is the presence of a qualifying condition and the necessity to renew the card. 
Medical marijuana has been legal in Arizona since 2010, but, since January 22, 2021, Arizona cannabis dispensaries can now legally sell recreational marijuana as well as medical marijuana.
Now that both medical marijuana and recreational marijuana are legal in Arizona, marijuana users in the state with valid medical reasons for using marijuana face the question of whether to remain a registered Arizona medical marijuana patient or simply operate hereafter under the auspices of a recreational marijuana user instead. Each of these options contains its pros and cons.
Cons of Staying a Medical Marijuana Patient
Getting a Medical Card
Purchasing, possessing and using medical marijuana legally does not come without its inconveniences. You must, first, have a valid qualifying medical condition. Then, you must meet with a qualified medical provider in Arizona to receive a medical marijuana evaluation and, if the QMP approves, the necessary recommendation to get your Arizona medical card. There's generally a fee to the medical provider for this appointment and recommendation, as well as a fee to the state for a medical marijuana card. Furthermore, these recommendations and medical cards expire after two years, at which time you must renew them, again at some expense of time and money.
Under recreational marijuana laws, by contrast, you only need to be a resident of Arizona with a valid state-issued photo ID verifying your identity, age and primary residence.
Note, however, that you have a way of overcoming this one con. With our convenient, low-cost and easy-to-use services, you can virtually eliminate the hassle described above for getting your card and have your Arizona medical marijuana card in hand quickly, cheaply and easily.
Pros of Staying a Medical Marijuana Patient
Sure, liberating yourself of the requirements for doctor's letters and renewal visits and medical card fees and registration in a state database can seem enticing. However, those may be the only benefits of operating as a recreational marijuana user in Arizona. They're also the only cons to remaining a medical marijuana patient instead and, in fact, the benefits far outweigh them.
Taxes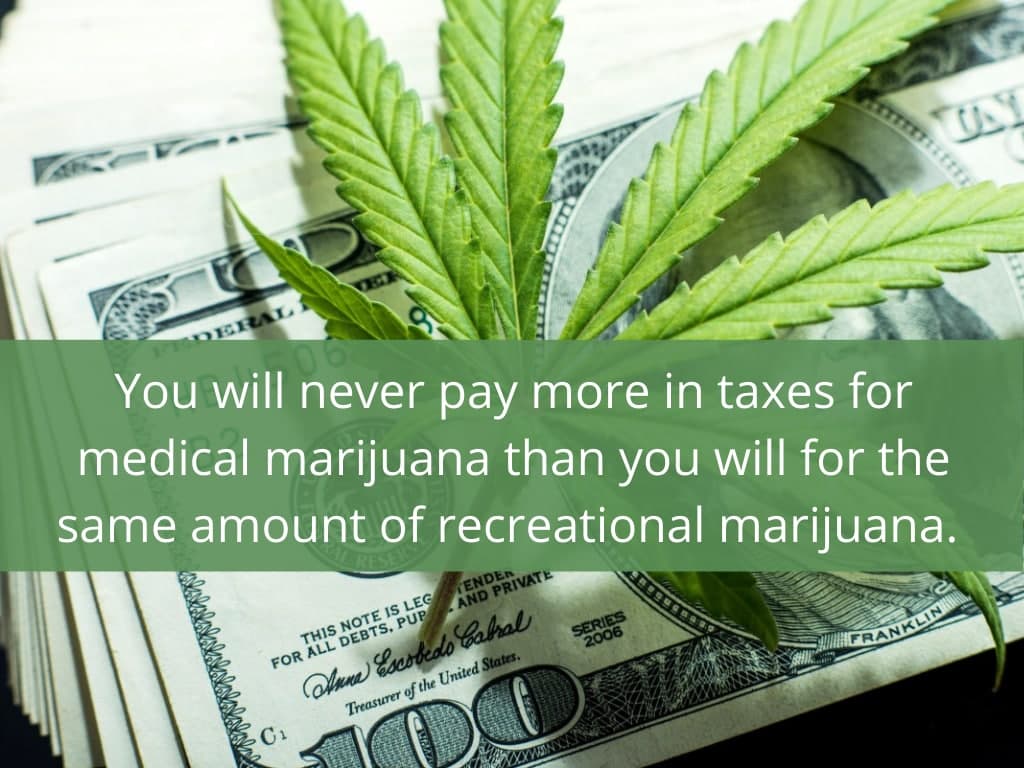 You can easily pay more in taxes for recreational marijuana than for medical marijuana, and the reverse will never be true. You will never pay more in taxes for medical marijuana than you will for the same amount of recreational marijuana. The reason is that medical marijuana is subject to state tax (currently set at 16%) but not local tax, whereas recreational marijuana is subject to both state and local taxes, where such taxes are in force. Note that not all Arizona localities impose local taxes on recreational marijuana.
Read also: Arizona Voted for Recreational Cannabis and Additional Tax for Recreational Users. 
Age
You must be at least 21 years old to use recreational marijuana legally in Arizona, but you can be any age and use medical marijuana legally. If you are a minor, you simply need a parent's or legal guardian's authorization.
Quantity
As a recreational marijuana customer, you can only buy up to one ounce of marijuana, with no greater than five grams of it being extracts and concentrates, in any dispensary visit. As a medical marijuana user, however, you can buy as much as 2.5 ounces, whether in a single transaction or multiple ones, every two weeks. Those limits apply not just to purchasing but also to possessing marijuana.
Read also: What Allotment Medical Marijuana Patients Have in Arizona. 
Wait-times
As far more people qualify for recreational marijuana than for medical marijuana, and the process of obtaining it involves no preliminary doctor's visits or registration procedures, the lines at recreational dispensaries are generally much longer than those at medical marijuana dispensaries, making for much longer wait-times to buy recreational marijuana. Many dispensaries that opt to sell both medical and recreational marijuana will have two separate lines, in fact, allowing medical patients to get through much faster.
Edible Potency
When it comes to marijuana edibles, medical marijuana patients can purchase edibles of any potency, but recreational marijuana users can only purchase edibles with up to 10 mg of THC per serving and 100 mg per package.
Work Protections
Arizona has some employee protections in place for medical marijuana patients but not for recreational marijuana users. Specifically, an employer cannot fire a worker with a valid Arizona medical marijuana card for failing a marijuana drug test. Rather, the employer can only take action against the worker if he or she is impaired or in possession of marijuana while on the job. By contrast, an employer can fire a recreational marijuana user simply for failing a marijuana drug test.
Read also: What Legal Marijuana Under Proposition 207 Means to Arizona Employees and Employers.
Delivery
Medical marijuana delivery is another benefit of medical marijuana, at least currently, in Arizona. As of this March 2021 writing, delivery of recreational marijuana is still illegal in Arizona. Current state law only allows for the potential adoption of rules permitting and regulating recreational marijuana delivery on January 1, 2023. For starters, that doesn't guarantee the state will actually choose to adopt such rules, and, secondly, even if it does, that cannot and will not happen until at least 2023. The state has given itself all the way up to January 1, 2025 before requiring itself to allow delivery of recreational marijuana.
Considering all the advantages of having a medical marijuana card, you are probably wondering how you can get one quickly. To do this, you just need to register, and we will put you in touch with the best therapist in the area for a consultation. The doctor will explain to you all pros and cons of having a medical card, answer all cannabis-related questions and assist in the procedure of getting a medical marijuanas card in Arizona.