Short answer: The most updated information on Arizona cannabis-related laws. Recent medical requirements and qualifying conditions for medical marijuana card in Arizona. Updated on Jan 18th, 2022.
Medical marijuana has been legal in the state of Arizona since 2010 when voters approved Proposition 203 to enact the Arizona Medical Marijuana Act (AMMA.) The act assigns the Arizona Department of Health Services (AZDHS) with the responsibility of regulating medical marijuana in the state.
In 2020, Arizona also legalized recreational marijuana. However, the laws and rules governing the purchase, sale, possession and use of marijuana in Arizona vary greatly between recreational and medical marijuana, such as those involving age and quantity restrictions. The following aims to clarify those Arizona laws and rules specific to medical marijuana.
Read also: What Allotment Medical Marijuana Patients Have in Arizona.
Obtaining an Arizona Medical Marijuana Card
All medical marijuana patients in Arizona must have a valid, unexpired medical marijuana card in order to use marijuana medically rather than recreationally.
Medical Requirements
To get an Arizona medical marijuana card, you must have a diagnosis for at least one of the qualifying conditions for medical marijuana in Arizona. Furthermore, a licensed physician must examine you to verify the diagnosis and submit a recommendation to the Arizona Department of Health Services (AZDHS) for you to use medical marijuana.
Qualifying Conditions
To get a medical marijuana card in Arizona, you must have one of these conditions:
Agitation of Alzheimer's disease
Amyotrophic Lateral Sclerosis (ALS)
Any chronic or debilitating medical condition or disease or the treatment for one that causes cachexia or wasting syndrome
Cancer
Chronic pain, such as from migraines or arthritis
Crohn's disease
Glaucoma
HIV or AIDS
Hepatitis C
Post-traumatic stress disorder (PTSD)
Severe nausea
Severe or persistent muscle spasms, such as those associated with multiple sclerosis
Seizures, including from epilepsy
Read also: Can You Get a Medical Marijuana Card for ADHD in Arizona?
Age Requirements
You can become an Arizona medical cannabis patient at any age, including as a minor. You must present a valid Arizona state driver's license or ID card with your application to verify your age as well as Arizona residency. If you are younger than 18, you need a legal guardian over 18 years old to register as your medical marijuana caregiver. As your caregiver, this guardian will procure medical marijuana from licensed dispensaries on your behalf.
Recommendation
To get the required recommendation for medical marijuana, you must visit with a licensed Arizona physician qualified to recommend medical marijuana to patients. You can find such a doctor on your own and schedule an in-person visit or you can use our services at AffordableCertification and be connected with a licensed and qualified MD within 20 minutes from the comfort, safety and privacy of your own home via telemedicine.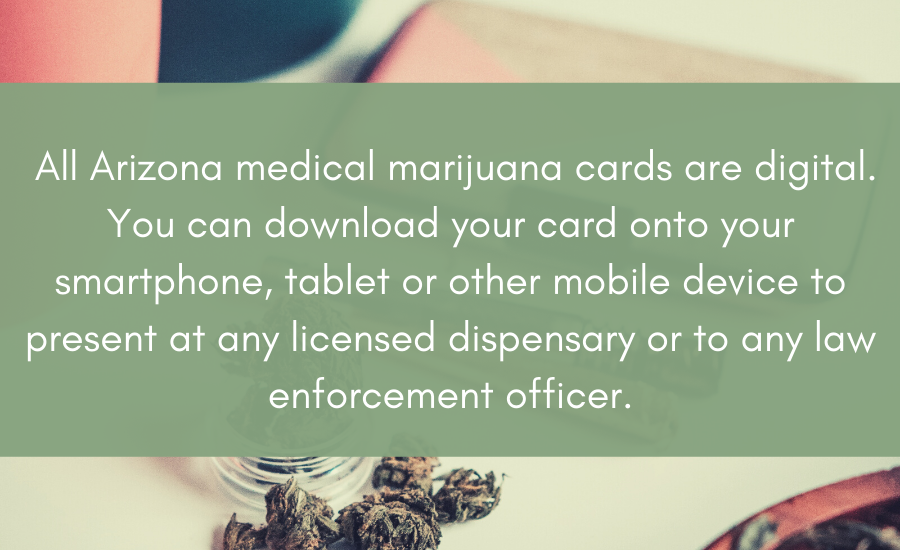 Fees
The fee structure for medical marijuana cards in Arizona is as follows:
Initial or renewal MMJ card for all qualifying patients who do not qualify for a discount – $150
Initial or renewal MMJ card for participants in SNAP (Supplemental Nutrition Assistance Program – $75
Initial or renewal MMJ caregiver card – $200
Making changes or amendments to an MMJ card – $10
Receiving Your Card
Within 10 days after completing the application process, the AZDHS will email you your medical marijuana card. All Arizona medical marijuana cards are digital. You can download your card onto your smartphone, tablet or other mobile device to present at any licensed dispensary or to any law enforcement officer to identify yourself as a registered medical marijuana patient in Arizona.
Renewals
In Arizona, a medical marijuana card is valid for a period of two years. Before your Arizona MMJ card expires, you must have it renewed. This requires attending another doctor's visit for an updated recommendation and paying another fee. The costs for the doctor's appointment and fee for a MMJ card renewal are typically lower than those for an initial visit and card. If you let your Arizona medical marijuana card expire, you must start the process of obtaining an initial visit and card all over again.
Read also: How to Renew Your Medical Card Online. 
Purchasing Medical Cannabis
Quantity Limits
With an AZ MMJ card, you can buy up to 2 1/2 ounces of medical cannabis, of which no more than 12 1/2 grams is in the form of cannabis concentrate, every two weeks. Possessing more than this amount at any one time, even by a medical marijuana cardholder, is classified as a petty offense in Arizona.
Potency
The AZDHS imposes no potency limits on medical marijuana purchases.
Taxes
While an excise tax, currently of 16%, is added to all recreational marijuana purchases in addition to state and local taxes, medical marijuana patients pay only state and local taxes but are exempt from any excise tax. At current tax rates, this amounts to approximately 8% in taxes for medical marijuana purchases.
Dispensary Lines
Due to the high demand projected for legal marijuana in the state, most Arizona dispensaries provide separate lines for medical and recreational customers. This can reduce the wait time considerably for medical marijuana patients. However, there are no state laws or rules requiring that dispensaries create separate lines.
Cultivation
It is legal in Arizona for medical marijuana patients to cultivate their own marijuana, but only under strict guidelines, including a limit of 12 plants. Alternatively, Arizona medical marijuana patients can appoint a caregiver to cultivate medical marijuana on their behalf.
Reciprocity
Reciprocity is the recognition of one state's medical marijuana card in another state with legal medical marijuana. Arizona offers reciprocity with all other states with a similar medical marijuana registration process. In such cases, valid medical marijuana cardholders visiting Arizona from another state are protected under Arizona medical marijuana law, as long as they abide by Arizona medical marijuana laws and rules.
As for using an Arizona medical marijuana card in another state, Nevada offers reciprocity with Arizona medical marijuana cardholders, although Arizona patients visiting Nevada must abide by all Nevada medical marijuana laws and rules.
Proximity to a Patient
It is not illegal in Arizona for an individual, whether an Arizona resident or a visitor to the state, to simply be in close proximity to a cardholding patient who is using medical marijuana.
Using Medical Marijuana
Public Use
It is illegal in Arizona to use any type or form of marijuana in a public place, even by a legitimate cardholding medical marijuana patient.
Place of Employment
There are certain legal protections afforded medical marijuana patients in Arizona from discrimination by an employer. While Arizona employers are permitted to keep a "drug-free workplace" and enforce policies maintaining that, such as required drug testing, employers are forbidden from applying those policies unequally among employees.
Read also: What Legal Marijuana Under Proposition 207 Means to Arizona Employees and Employers. 
Driving
According to the Arizona Supreme Court, motorists cannot be prosecuted for driving under the influence of medical marijuana unless the driver is impaired when the authorities stop him or her. Detecting the presence of inactive cannabis metabolites or cannabis compounds like CBD that are non-psychoactive does not constitute impairment and does not qualify as probable cause for detaining an individual or searching his or her vehicle, nor does merely possessing a medical marijuana card or application.
Knowing how cannabis laws work in your area can benefit you legally, as well as socially. You can get this and other cannabis-related information by contacting our certified physician. Thanks to telemedicine, it's now easy to schedule an appointment online, without leaving your home. Just sign up by clicking on the link below. 
Sources
"Medical Marijuana"; Arizona Department of Health Services
"Arizona Medical Marijuana Act"; Americans for Safe Access
"Arizona Marijuana Law"; AZMarijuana.com
"Arizona Medical Marijuana Law"; NORML